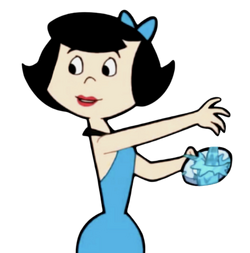 Elizabeth "Betty" Jean Rubble (née McBricker) is a fictional character from the television animated series The Flintstones and its spin-offs and live-action motion pictures. She is the black-haired wife of caveman Barney Rubble and the adoptive mother of Bamm-Bamm Rubble. Her best friends are her next-door neighbors, Fred and Wilma Flintstone.
She first appeared in the credits of the episode Modern Primitives, where she is voiced by Grey DeLisle.
Exteral Links
Ad blocker interference detected!
Wikia is a free-to-use site that makes money from advertising. We have a modified experience for viewers using ad blockers

Wikia is not accessible if you've made further modifications. Remove the custom ad blocker rule(s) and the page will load as expected.