Big Trouble in Billy's Basement
is the first segment of the twelfth 
Grim & Evil
episode.
Plot
Billy opens a strange book, The Bad Book, that makes him become possessed by the minion of an ancient cosmic entity, Yog-Sothoth, who wishes to open a portal for his master to enter and destroy the planet. Grim and Mandy manage to get Hoss Delgado to exorcise the spirit, but Billy creates an evil portal in the basement where Yog-Sothoth will enter the world. In the end, Yog-Sothoth and The Old Ones kick Billy out of the Dreamlands because they didn't enjoy his presence.
Credits
Story by: Gord Zajac
Storyboard by: Chris McCulloch
Directed by: Robert Alvarez, John McIntyre
Trivia
When Billy gets possessed by Yog's minion, his voice changes so that he sounds just like Zim from Invader Zim. Even his laughter becomes exactly like Zim's. Both characters are voiced by the same person.
The title "Big Trouble in Billy's Basement" is a parody of the movie title "Big Trouble in Little China".
Gallery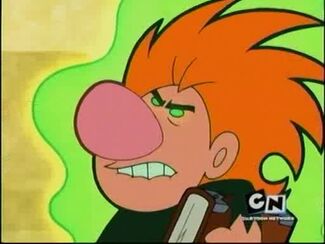 The image gallery for Big Trouble in Billy's Basement may be viewed here.
Ad blocker interference detected!
Wikia is a free-to-use site that makes money from advertising. We have a modified experience for viewers using ad blockers

Wikia is not accessible if you've made further modifications. Remove the custom ad blocker rule(s) and the page will load as expected.