Billy Gets an "A"
is the 5th episode from season 7 of
The Grim Adventures of Billy & Mandy
.
Plot
There was a test in the school of Billy. He gets an F so he requested Grim to  turn his F grade into an A. At last Grim turned the F grade to an A. When he does that all, everything became opposite, such as Harold doing the chores, while dressed as Gladys and she was dressed like Harold. When Grim was irritated from it, he and Mandy decide to go back in time to stop Billy. But they are failed everytime.
Credits
Story and Storyboard by: Alex Almaguer
Directed by: Kris Sherwood
Gallery The image gallery for Billy Gets an "A" may be viewed here.
Video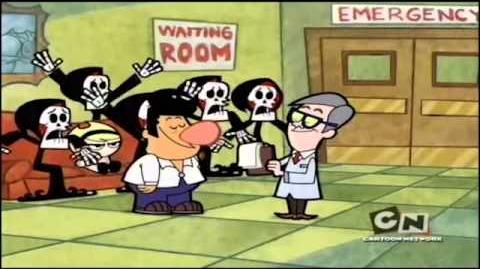 Ad blocker interference detected!
Wikia is a free-to-use site that makes money from advertising. We have a modified experience for viewers using ad blockers

Wikia is not accessible if you've made further modifications. Remove the custom ad blocker rule(s) and the page will load as expected.