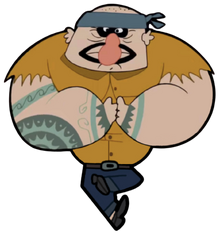 Bronx is a Angry Man that Appears in 4 Episodes Following: Duck!,Billy and Mandy Save Christmas,My Fair Mandy,Get Out of my Head! and Also Smiled in My Fair Mandy That Away He Does, Interestingly There's Never Been an Episode Bronx Tried to Smile or Cry Where Mandy Appears
Ad blocker interference detected!
Wikia is a free-to-use site that makes money from advertising. We have a modified experience for viewers using ad blockers

Wikia is not accessible if you've made further modifications. Remove the custom ad blocker rule(s) and the page will load as expected.