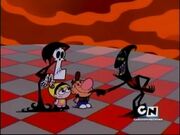 |Residents: Nergal, Aunt Sis, Nergal Jr.
The Center of the Earth is the home of Nergal and his family, It is filled with lava and pointy rocks that can squish anyone, Nergal defines the center of the earth as a lonely place where you can't make friends, Aunt Sis treats the center of the earth like a normal typical home and Nergal Jr. does not like it that much but appreciates his home.
Ad blocker interference detected!
Wikia is a free-to-use site that makes money from advertising. We have a modified experience for viewers using ad blockers

Wikia is not accessible if you've made further modifications. Remove the custom ad blocker rule(s) and the page will load as expected.