&nbsp
{{{name}}}
220px
Residence
Underworld
Occupation
Underworld makeover artist
Real world information

Crabina is one of Grim's old friends. She is an Underworld fashionista, coach and make-up artist, who once helped Grim from being a total nerd to what he is today.
Appearance
Crabina appears in My Fair Mandy. Grim needs her help preparing Mandy for the Little Miss Scurvy Pageant. In spite of Mandy's objections, Crabina does a very good job (although nobody wins the pageant).
Description
Crabina has a very distinctive fashion sense, not helped by her considerable amount of plastic surgery (which needs incessant nipping and tucking). She is however very insightful, and a good friend. She travels around in her steel outhouse, carried in the stomach of a giant duck.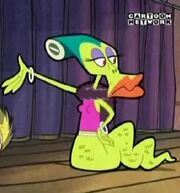 Quotes
"That's her? I mistook her for an angry tree stump!"
"It's always in style!"
Ad blocker interference detected!
Wikia is a free-to-use site that makes money from advertising. We have a modified experience for viewers using ad blockers

Wikia is not accessible if you've made further modifications. Remove the custom ad blocker rule(s) and the page will load as expected.