Get Out Of My Head!
is the sixth episode of
The Grim Adventures of Billy & Mandy
. It was originally part of a
Grim & Evil
episode.
Plot
After watching a movie, Grim teaches Billy to possess people by jumping into their heads. Then, Billy possesses Mandy, and makes her do assorted things like flirting with Irwin, kissing Mandy's mother, going into both men's and women's restrooms, and eating earthworms. In the end, Billy leaves Mandy's head, but later that night, Mandy possesses Billy's cat, Milkshakes, to maul him.
Credits
Written by: Maxwell Atoms
Storyboard by: Maxwell Atoms
Directed by: Dave Brain
Quotes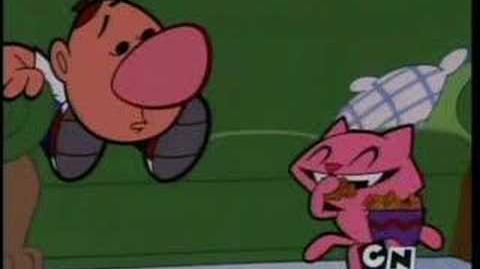 Billy: Ew! That soaks! This will be so scary!
Grim: Oh, believe! I've seen scarier stuff in your toilet!
Billy: Yeah... Hey, can you jump in people's heads like that too?
Grim: [singing, while in Milkshake's (Billy's cat) body] Look at me, I'm a kitty cat! I wear a bowl of peanuts for a hat. If I eat them all, I will get fat. Blah blah blah, I'm a kitty cat!
Mandy: What are you doing, you brainless monkey?
[Billy laughing]
Billy: (as Mandy) Hey, Irwin!
Irwin: Uh... Hi, Mandy.
Billy: (as Mandy) You are such a cutie!
Irwin: You all right, mate?
Billy: (as Mandy) Yeah, you'll rock! [laughing]
Billy: Gee, Milkshakes, I think Mandy might be mad at me now. I think I deserve an account of all the naughty stuff I made her do. I deserved to be punished.
Mandy: (as Milkshakes) Touching.
Billy: GASP!!!! M-M-M-M-Mandy?
Mandy: (as Milkshakes) You know, Billy, you can pick your friends and you can pick your nose. But you can't pick your friends' nose.
Billy: EEEEEEEEEE-YYYYAAAAAAAAAHHHHHHHHHHHH!!!!!!!!!!!!!!!!
Trivia
This is Irwin's first appearance, and possibly the reason behind Irwin's crush on Mandy, since Billy flirted with Irwin while in Mandy's head.
When Billy falls off of Mandy's bed and turns back to himself. Billy says in the reverse "Please don't try this at home."
Gallery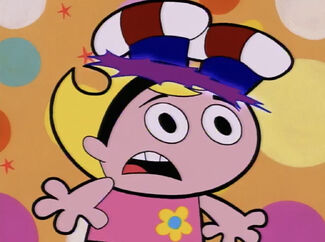 The image gallery for Get Out of My Head! may be viewed here.
Video