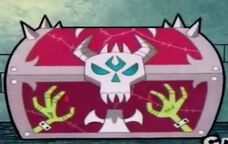 Grim's Trunk, which contains all of Grim's objects, most of which are Supernatural, is a recurring plot device in the series. Many episodes plots revolve around something Billy dug out of Grim's trunk despite being told not to.
Description
It's appearance varies by episode. In some episodes it is normal looking, but with a glowing aura or green. In others it is covered in skulls and various symbols.
In Billy and Mandy vs. the Martians, it's revealed that there is a large portal on the inside, explaining the large number of contents.
Notable Contents
Gallery
Ad blocker interference detected!
Wikia is a free-to-use site that makes money from advertising. We have a modified experience for viewers using ad blockers

Wikia is not accessible if you've made further modifications. Remove the custom ad blocker rule(s) and the page will load as expected.