Grim In Love
is the first segment of the fifth episode of
The Grim Adventures of Billy & Mandy
.
Plot
When Billy, Mandy and Grim go to the beach, Grim falls in love with a gothic woman named Malaria. Grim and Malaria have fun dating, but Mandy points out that it will change once Grim tells Malaria that he's not human and is actually the Grim Reaper. In the following date, Grim demonstrates his supernatural powers while dancing and, as predicted, Malaria leaves in panic.
Credits
Story by: Gord Zajac
Storyboard by: Brett Varon
Directed by: John McIntyre, Robert Alvarez
Trivia
This episode and the two other pair episodes that aired the same time as this, are all considered as Valentine's Day specials.
Malaria is named after an infectious disease transmitted to people by a female infected mosquito.
Malaria and Grim went to a 'Hard Rot Cafe, which is a spoof of the Hard Rock Cafe.
There are at least 3 movies references to this episode: When Harry Meets Sally (1987); Pulp Fiction (1995); and Titanic (1997)
Gallery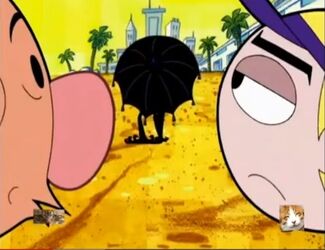 The image gallery for Grim in Love may be viewed here.