Grim or Gregory?
is the first segment of the eighth episode of 
Grim & Evil
.
Plot
It's Halloween and Billy, Grim and Mandy go trick-or-treating. While Billy and Mandy are at a house, Grim mistakes a boy's mother for Atrocia, the host of the all-night Halloween Marathon on TV. Gregory is mistaken to be Grim by Billy, and Grim is mistaken as Gregory by Gregory's mother. In the end, everything is back to normal.
Credits
Story by: Gord Zajac
Storyboard by: Shellie Kvilvang
Directed by: Brian Hogan
Transcript
Gallery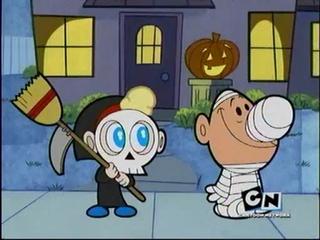 The image gallery for Grim or Gregory? may be viewed here.
Ad blocker interference detected!
Wikia is a free-to-use site that makes money from advertising. We have a modified experience for viewers using ad blockers

Wikia is not accessible if you've made further modifications. Remove the custom ad blocker rule(s) and the page will load as expected.