Irwin Gets a Clue
is the 4th episode from season 5 of
The Grim Adventures of Billy & Mandy
.
Synopsis
After seeing Billy, Mandy and Grim battling a strange creature, Irwin again feels rejected by Mandy. Hoss Delgado, spectral exterminator, appears to help Mandy destroy the monster. Delgado decides to have Irwin as his sidekick and train him to be "cool" to win Mandy's love. Irwin gets an attire like Delgado's, and attaches an egg beater to his right hand. Delgado releases a monster so Irwin can fight it and impress Mandy, but he is humiliated anyway. Mandy tells Irwin he is just a nerd, and Billy tries to assure him that being a nerd is not such a bad thing after all.
Credits
Story by: Zena Wyss, Jim Schumann
Storyboard by: Jim Schumann
Art direction: Rae McCarson
Directed by: Sue Perrotto
Gallery The image gallery for Irwin Gets a Clue may be viewed here.
Trivia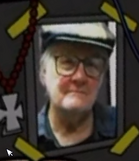 Yogi Bear, Boo Boo, Secret Squirrel, Snagglepuss, and Huckleberry Hound make cameo appearances as victims of Hoss Delgado's driving.
At one point in the episode, Hass Delgado says, "no one is born cool, except this guy" and points to a picture of a mysterious old man in his car visor.
Video
Ad blocker interference detected!
Wikia is a free-to-use site that makes money from advertising. We have a modified experience for viewers using ad blockers

Wikia is not accessible if you've made further modifications. Remove the custom ad blocker rule(s) and the page will load as expected.