Judge Roy Spleen
Residence
The Underworld
Occupation
Judge, teacher and minister
Real world information
Judge Roy Spleen is an honorable judge of The Underworld, and is a reccuring minor supporting character in the series. Judge Roy Spleen was first seen in Keeper of the Reaper in season 6, along with, to the judge's displeasure, Fred Fredburger. He is voiced by Phil LaMarr.
Personality
Roy Spleen is a very strict and short-tempered judge who makes hostile threats or decisions towards those who misbehave in court. Spleen probably isn't very smart, since he at first didn't know he was the judge for the case of the Keeper of the Reaper, and Fred Fredburger managed to steal his gavel easily.
Appearances
Outfit
As a judge, Roy Spleen wears the wig of a judge, along with the robes of his office.
Quotes
Get over here!
I order you to shut up!
Video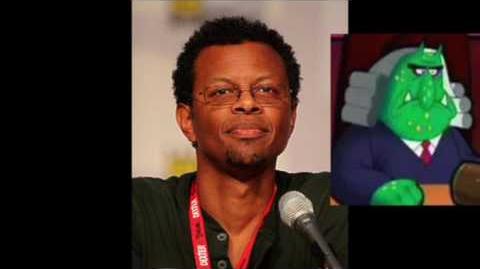 Trivia
In a flashback in Wrath of the Spider Queen, Roy Spleen was revealed to be one of Grim's high-school teachers.
Judge Roy Spleen's name is a play on Judge Roy Bean.
Ad blocker interference detected!
Wikia is a free-to-use site that makes money from advertising. We have a modified experience for viewers using ad blockers

Wikia is not accessible if you've made further modifications. Remove the custom ad blocker rule(s) and the page will load as expected.