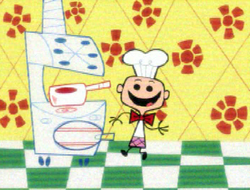 Pat The Baker is one of Billy's favorite videogames.
It involves a chef named Pat. Billy helps Pat make various meals. The game is prominently featured in the episode, Brown Evil.
Mandy saw Billy playing the game and thought it was stupid, so she yanked it out of his Lame Cube and broke the disc, causing Billy great sadness.
After defeating the zombies Hoss Delgoto rewards Billy by letting him play his copy of the game.
Ad blocker interference detected!
Wikia is a free-to-use site that makes money from advertising. We have a modified experience for viewers using ad blockers

Wikia is not accessible if you've made further modifications. Remove the custom ad blocker rule(s) and the page will load as expected.