Runaway Pants is the 9th episode from season 5 episode of The Grim Adventures of Billy & Mandy.
Credits
Story by: Maxwell Atoms, Alex Almaguer
Storyboard by: Alex Almaguer
Art direction: Rae McCarson
Directed by: Sue Perrotto
Gallery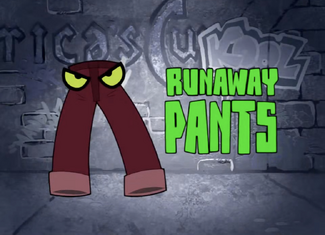 The image gallery for Runaway Pants may be viewed here.
Trivia
The opening of the episode is a parody of the 1960s TV show The Twilight Zone.
Although the episode's story was technically made-up by the "narrator," it's true in that Junior's never actually transformed into inanimate objects.

During the narrator's story, Junior said he's never transformed into anything besides people, but he's also transformed into animals.
Video
Ad blocker interference detected!
Wikia is a free-to-use site that makes money from advertising. We have a modified experience for viewers using ad blockers

Wikia is not accessible if you've made further modifications. Remove the custom ad blocker rule(s) and the page will load as expected.