Scythe 2.0 is the 10th episode from season 5 of The Grim Adventures of Billy & Mandy.
Summary
After Grim's scythe fails to open a portal, he decides to sharpen it, but the blade breaks. Billy, Mandy and Grim go to the Underworld to meet F (a parody of James Bond's "Q"), who is in charge of the Underworld secret gadgets. F unveils Scythe 2.0, which is a new-and-improved sentient, autonomous, thinking and feeling computerized scythe, that Grim uses while his classic scythe is being repaired. When Mandy tells Grim to do his usual, humiliating chores, Grim delegates the work to Scythe 2.0, which rebels and decides to reap by itself, starting with Billy and Mandy. Grim saves the kids, takes Scythe 2.0 back to the Underworld, and returns with his old scythe.
Credits
Story by: Maxwell Atoms, Michael Diederich
Storyboard by: Michael Diederich
Art direction: Rae McCarson
Directed by: Phil Cummings
Gallery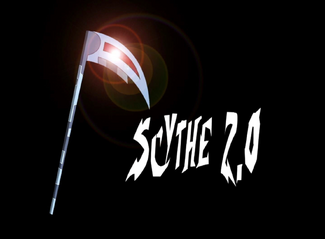 The image gallery for Scythe 2.0 (episode) may be viewed here.
Trivia
Video
Ad blocker interference detected!
Wikia is a free-to-use site that makes money from advertising. We have a modified experience for viewers using ad blockers

Wikia is not accessible if you've made further modifications. Remove the custom ad blocker rule(s) and the page will load as expected.