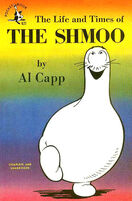 A
shmoo
(plural:
shmoon
, also
shmoos
) is a fictional cartoon creature. Created by Al Capp (1909–1979), it first appeared in his classic comic strip Li'l Abner on August 31, 1948.
In the show it appeared in Billy And Mandy Begin.
External Links
Ad blocker interference detected!
Wikia is a free-to-use site that makes money from advertising. We have a modified experience for viewers using ad blockers

Wikia is not accessible if you've made further modifications. Remove the custom ad blocker rule(s) and the page will load as expected.