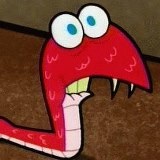 Shnisissugah
is a small red cobra snake who only appeared in "The Secret Snake Club."
The Secret Snake Club thought he was a giant snake and that he could make them kings. However, he can't do anything that they mention in their song, as what they thought was an 8km "cool-kid eating" god was actually an 8cm reptile version of Woody Allen. It is revealed that he is allergic to cats. His house is near Lake Ontario. Cool Kids give Shnisissugah indigestion. He can bite cool kids on the toe.

He is voiced by Frank Welker intimating Woody Allen.