Terror of the Black Knight
is the first segment from the ninth episode of
The Grim Adventures of Billy & Mandy
.
Plot
At a medivial fair Billy is impressed with Irwins realistic armor and wants one for him too. Grim fulfills his wish by giving him a cursed armor.Soon when Billy wants to go to the bathroom the curse is revealed that one cannot leave the suit until he beats someone in a challenge.
Credits
Story by: Craig Lewis
Storyboard by: Alex Almaguer
Directed by: Juli Hasiguchi
Challenge
Gallery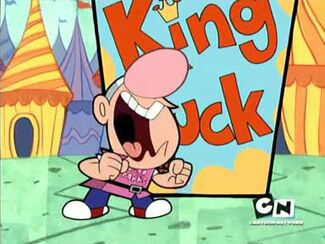 The image gallery for Terror of the Black Knight may be viewed here.
Ad blocker interference detected!
Wikia is a free-to-use site that makes money from advertising. We have a modified experience for viewers using ad blockers

Wikia is not accessible if you've made further modifications. Remove the custom ad blocker rule(s) and the page will load as expected.