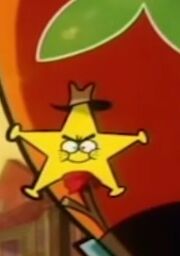 The Gold Star Scepter is the weapon used by the
Tooth Fairy
.
Properties
According to Grim, it is more powerful than The Reaper's Scythe. It also weird Grim Out.
It's shown to be able to turn victims into fast food.
However, as demonstrated by Mandy, it does not work on anyone who does not believe in the Tooth Fairy.
Appearance
It is a gold sherriff's badge on the end of a stick. It has a face with a smile containing a set of rotten teeth. It is sometimes seen in Cowboy garb.
Gallery
Ad blocker interference detected!
Wikia is a free-to-use site that makes money from advertising. We have a modified experience for viewers using ad blockers

Wikia is not accessible if you've made further modifications. Remove the custom ad blocker rule(s) and the page will load as expected.