The Grim Adventures of Billy and Mandy Video Game
is the only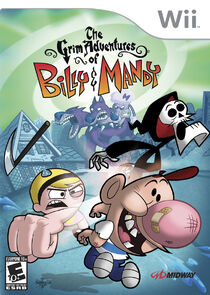 Billy and Mandy console game ever made. It was released for the PlayStation 2 and Nintendo GameCube on September 25, Game Boy Advance on October 16 and on Wii November 16, all in 2006. It was released for the Wii in Europe on March 16 and in Australasia on March 15, both in 2007. It is a multiplayer platform fighting game with a story mode, VS mode, and side missions.
Storyline
You may start playing as Billy, Mandy, Grim, or Irwin, and start the game in Asgard. Someone released dangerous Mojo balls from Grims trunk, and they set off to find out who. They beat up Irwin in Asgard, but find only a chicken feather, leading Mandy to believe it to be Jack O' Lantern. They defeat him and for unknown reasons, head to the Underworld. They take down Nergal and Nergal Jr. and find more chicken feathers, taking them to the mutant chicken farm from a previous episode, Which Came First? Grim believes that they will find who did it at Billy's house, leading to a climactic battle with the Brain-Eating Meteor. Afterwards, it is discovered that it was Billy leading a trail of chicken feathers from a curse Grim put on his trunk giving Billy a chicken tail. He was digging in grim's trunk to free Mo and Jo. It then goes to the credits where you can play as Mandy, beating up Billy.
Unlockable Characters
Gallery
Videos
Trivia
Ad blocker interference detected!
Wikia is a free-to-use site that makes money from advertising. We have a modified experience for viewers using ad blockers

Wikia is not accessible if you've made further modifications. Remove the custom ad blocker rule(s) and the page will load as expected.