Zip Your Fly! is the 7th episode from season 5 of The Grim Adventures of Billy & Mandy.
Plot
Grim has his clothes dirty and to take them off he uses a zip. Unfortunately, the zip does not work so Grim leaves the room keeping the zip on the table. Billy uses it to create mischief like replacing his hand with the face of milkshake. Mandy takes it from Billy and created chaos until when she cut her head off to scare Billy. A fly came and sat on the zip, resulting Mandy's head replaced with Fly's body and Mandy's body replaced with Fly's head. Many drops the hook of the zip as it was heavy and seeks Grim. Harold catches her and tries to flush her in the toilet until Grim came and saw what`s happening. He and Mandy comes where she dropped the hook but finds it to be moved to the Dumping Ground. Mandy had to eat all the garbage in order to find the hook. At last they make everything normal again.
Credits
Story by: Maxwell Atoms, Louie Del Carmen
Storyboard by: Louie Del Carmen
Art direction: Rae McCarson
Directed by: Phil Cummings, Juli Hashiguchi
Trivia
Mindy's revealed to be Billy and Mandy's class president at school.
Gallery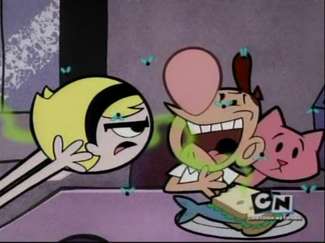 The image gallery for Zip Your Fly! may be viewed here.
Video
Ad blocker interference detected!
Wikia is a free-to-use site that makes money from advertising. We have a modified experience for viewers using ad blockers

Wikia is not accessible if you've made further modifications. Remove the custom ad blocker rule(s) and the page will load as expected.